It's March again. And once again…It's madness.
The conference tournaments were electric with plenty of upsets and buzzer beater finishes, and now it's time for the real deal. It was fun betting on
BettorEdge
and padding my balance a bit but now we're onto the big dance.
To keep all those bets straight you need a good bracket. Well organized, with all the info you need. We don't need a giant fucking Wendy's new hot crispy fries ad in the middle of the fucking thing when you can barely read what seed each team is.
Let's dive in and find you the right bracket for you.
The Pretty Bracket
From our friends at the OregonLive.com, I present you this.
I love the look of this bracket.
The giant New Orleans Final Four logo in the back is awesome looking and not so dominant that you can't read the text above it. With boxes to write in your picks makes it a little easier to look at than just the plain lines.
I hate the 4 play in games. It's just a tease. No one really cares about them but we're all gonna still watch them because were excited but after we'll just be left with March Madness blue balls. Not only do they make it that much harder to fill out your bracket but they fuck with the bracket themselves. Oregon Live (which I've never heard of) did a nice job. I like the first four on top which keeps it separate and keeps the rest of the bracket neat.
The one downfall is that this bracket tells you the days the rounds are on but which day does Arkansas play Colgate? What time? Where? Thank you for the general region in the United States where the games are being played but I need some fucking cities.
For example, Wisconsin is playing in the Midwest region. The Midwest is pretty fucking big. Wisconsin is playing specifically in Milwaukee. Milwaukee is only about an hour drive from Madison. Their first round opponent Colgate, comes from Hamilton, New York. Hamilton is a not so quick twelve and a half hour drive. Advantage? I think so. Fucking Wisconsin.
If this bracket is for you. You can find it HERE.
The Official Bracket
From our friends at the NCAA, I present you this.
Not my favorite bracket, but you can't go wrong with the official bracket.
I like the New Orleans themed header on top along with the logos in the middle. The logos are a little small, but makes it a little easier to read the teams.
They went with the lines to write your picks with boxes for the national championship. I don't mind it, but I would have preferred boxes for the whole thing or lines for the whole thing. Stop trying to get cute with it NCAA.
They got it going on with with the cities and the dates as well. I know which game is being played on which day and which cities each game is being played. Again, good information to have to know that the fuck faces from Wisconsin have yet another unfair advantage.
We're almost there as well with the TV stations too. I didn't realize that the Final Four was going to be on TBS until I wrote this. Seems a little silly. I guess we'll squeeze it in there between reruns of Everybody Love's Raymond and The King of Queens.
The TV channels are important too, especially knowing which channel those Thursday and Friday afternoon games are on. It is the WORST when you turn on TruTV to catch a 12 seed / 5 seed upset and you get ambushed with an episode of Impractical Jokers.
Those guys suck. There's nothing worse than watching a great basketball game and immediately after it's over getting lambasted with "Murr didn't drink his sock full of mayo fast enough while telling a woman on the street he wanted to rub her feet, so that makes him tonight's big loser!"
If this bracket is for you. You can find it HERE.
THE. BRACKET.
From our friends Matt Norlander on Twitter, I present you this.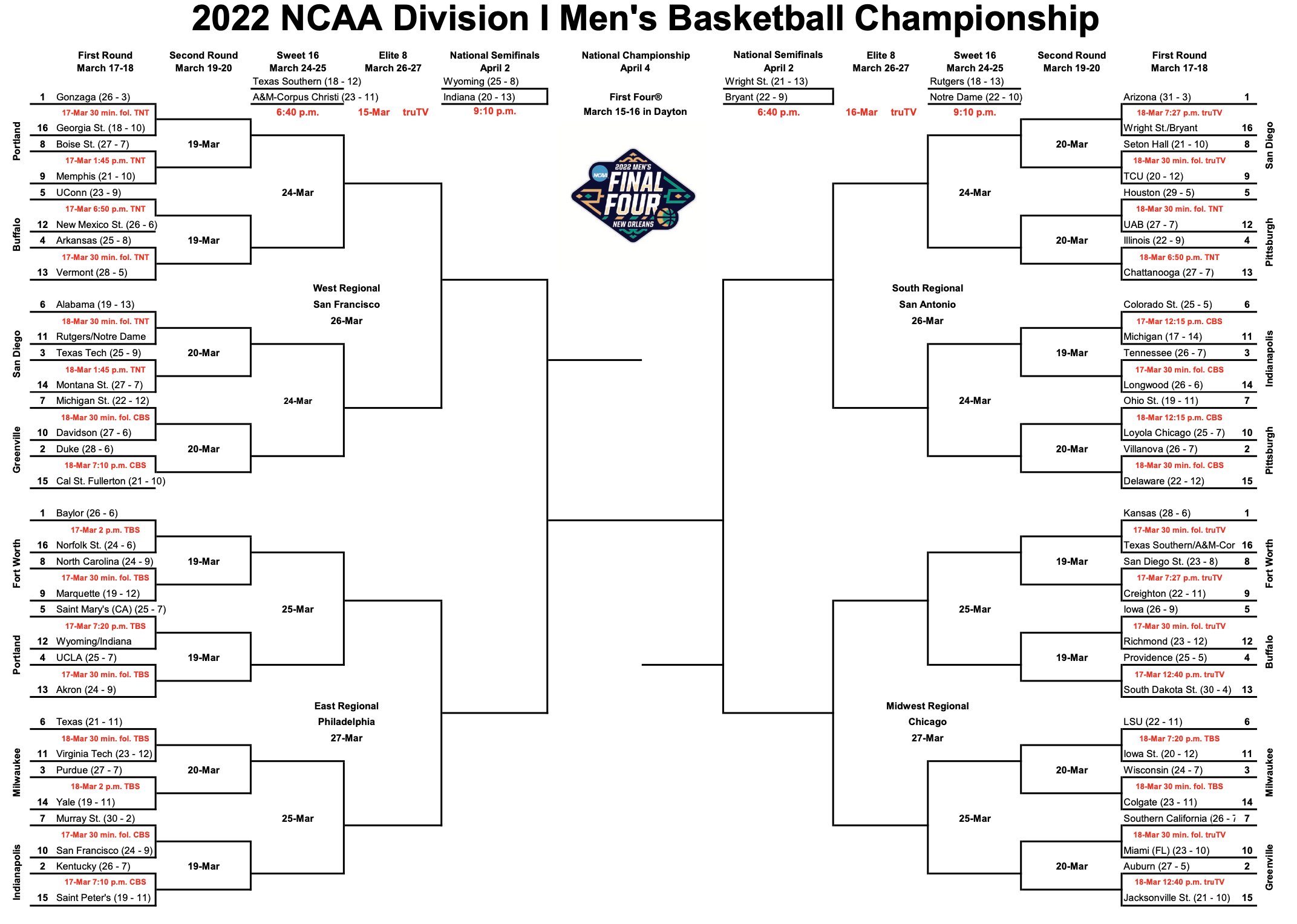 I don't know where this thing came from and I didn't know who Matt Norlander was until this morning when he tweeted out this beauty, but it's fucking amazing.
It has everything.
Just the simple official logo in the middle that is a tad small. But again, would rather have it small and make it easier to read the teams than have like a giant Paramount+ logo on there. No one gives a shit about the streaming services right now.
Well organized, readable text throughout, with the times and channels highlighted in red. Specific dates for every round.
The first 4 is at the top just how I like it, with all the same info as the rest of the games.
This thing really is perfect. I'm honestly thinking about going to a Kinko's or whatever the hell they're called now and getting a big fucking poster of this thing. If this bracket has existed for awhile than I have been missing the fuck out. I pray that Matt Norlander or whoever made this bad boy continues to do so for the rest of time.
If this bracket is for you. I found it on Twitter.
Great guy, better drinker. One of the better looking husky guys around.