It seems that protests are becoming a more common theme when it comes to Minnesota sporting events. Maybe it's not all that bad? It makes for funny tweets and something to talk about at work and when they happen, Minnesota sports seem to thrive! So keep the protests coming I guess!
The Rappelling Vikings
This still baffles me.
How in the fuck did these guys even get to the point to hang that banner?! No one noticed that a couple of guys with a bunch of shit were starting to scale the rafters of US Bank Stadium? Good thing these guys were good and didn't fall…imagine enjoying the game and Skol chanting until you lose your voice when all of a sudden some hippie comes crashing down on you. What a bummer that would be. From what I remember the were up there for awhile. I'm pretty sure they even kept playing the game while they were dangling up there.
They were playing the Bears in what was a toilet bowl that didn't count for anything at all. But the Vikings ended up winning the game! Maybe those guys were good luck!
Fast Forward to Miss Lippy…aka #GlueGirl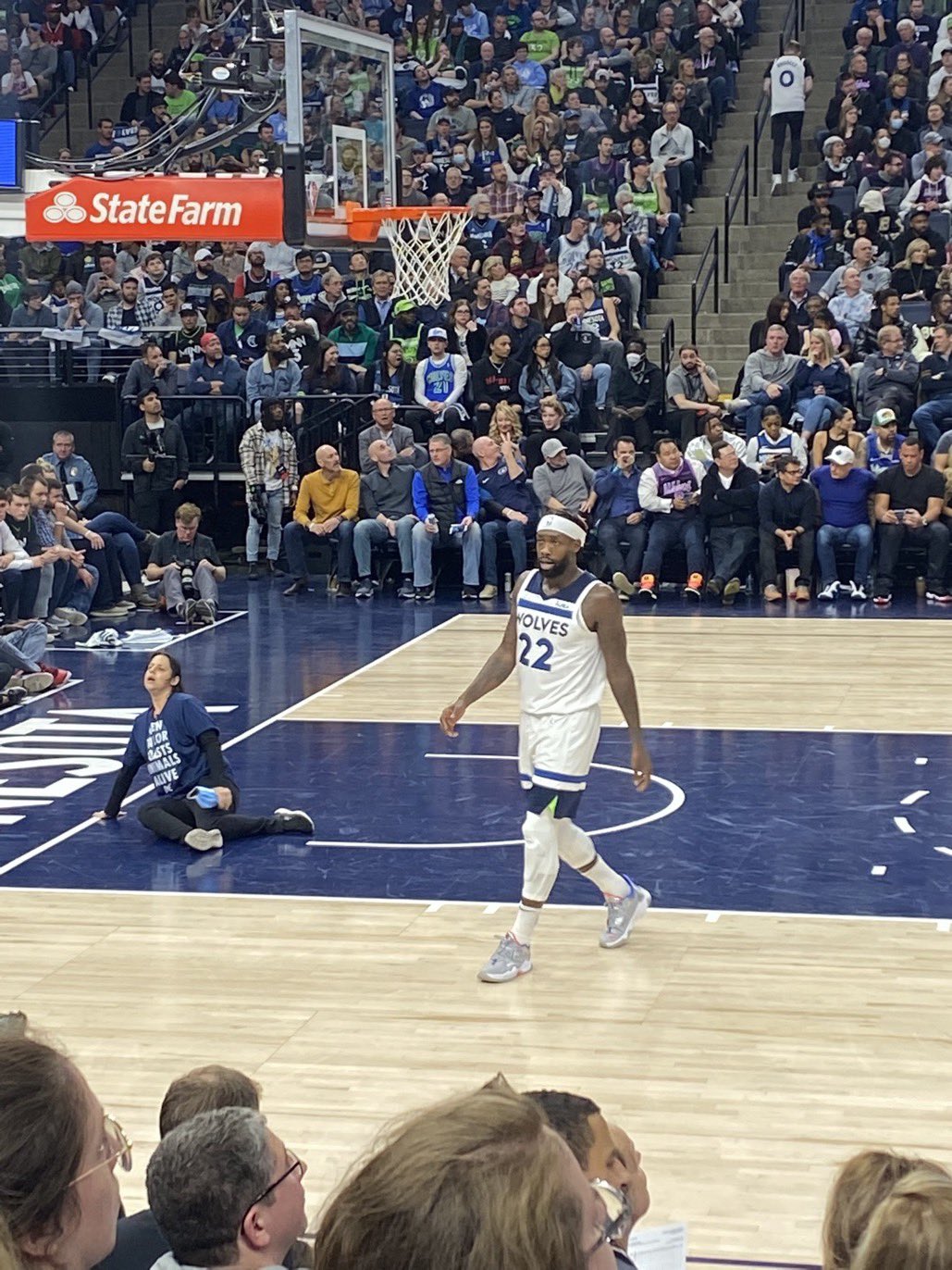 In an absolute crazy person move, a lady glued her hand on the court at the Timberwolves play in game last week. This isn't a welcomed part of any sporting event but not one bad thing came out of this. I'm still laughing my ass off about this.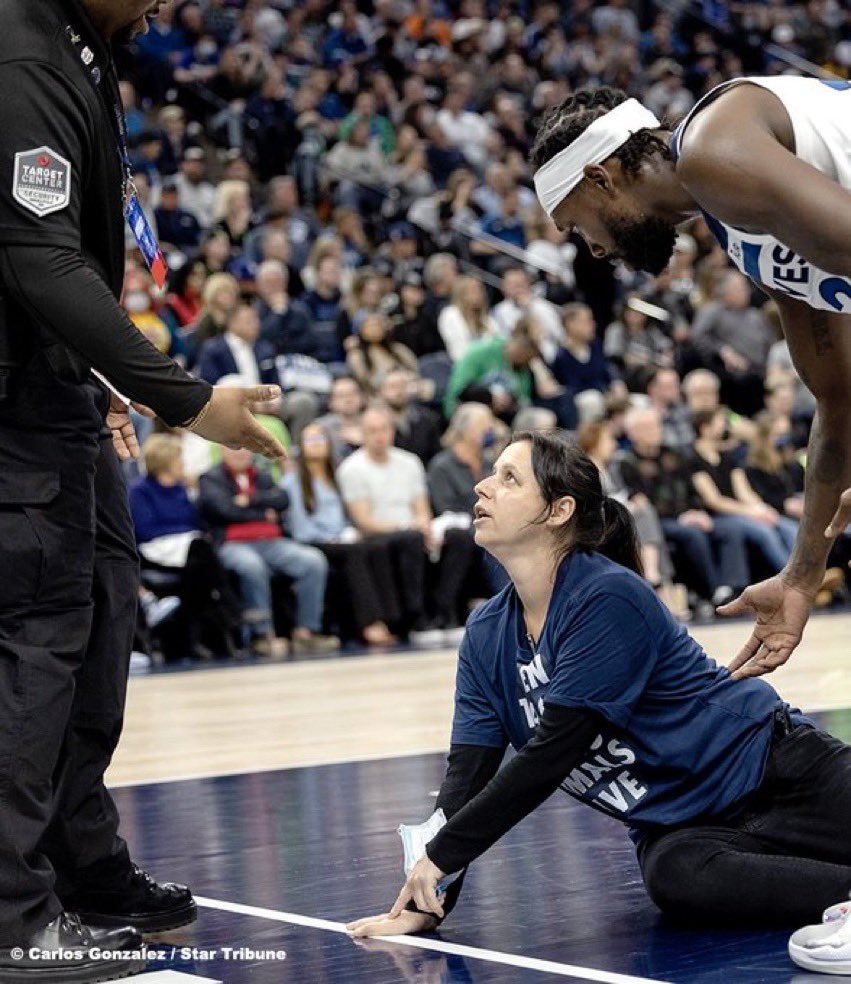 And of course the first on scene was Pat Bev. Unreal. He probably was trying to help at first and then once he realized what the hell was going on he got out of there. In the presser after the game he didn't comment on in it, but I would LOVE to hear the players, especially Pat Bev's, honest reaction on this ridiculousness.
Our boy Chris Long was definitely right here. After the glued dried on the whole thing the Wolves turned that game around and won in an electric fashion. Seems there might be a theme with these protestors and us winning. Keep the protests coming I guess!
Run It Back…#ChainGirl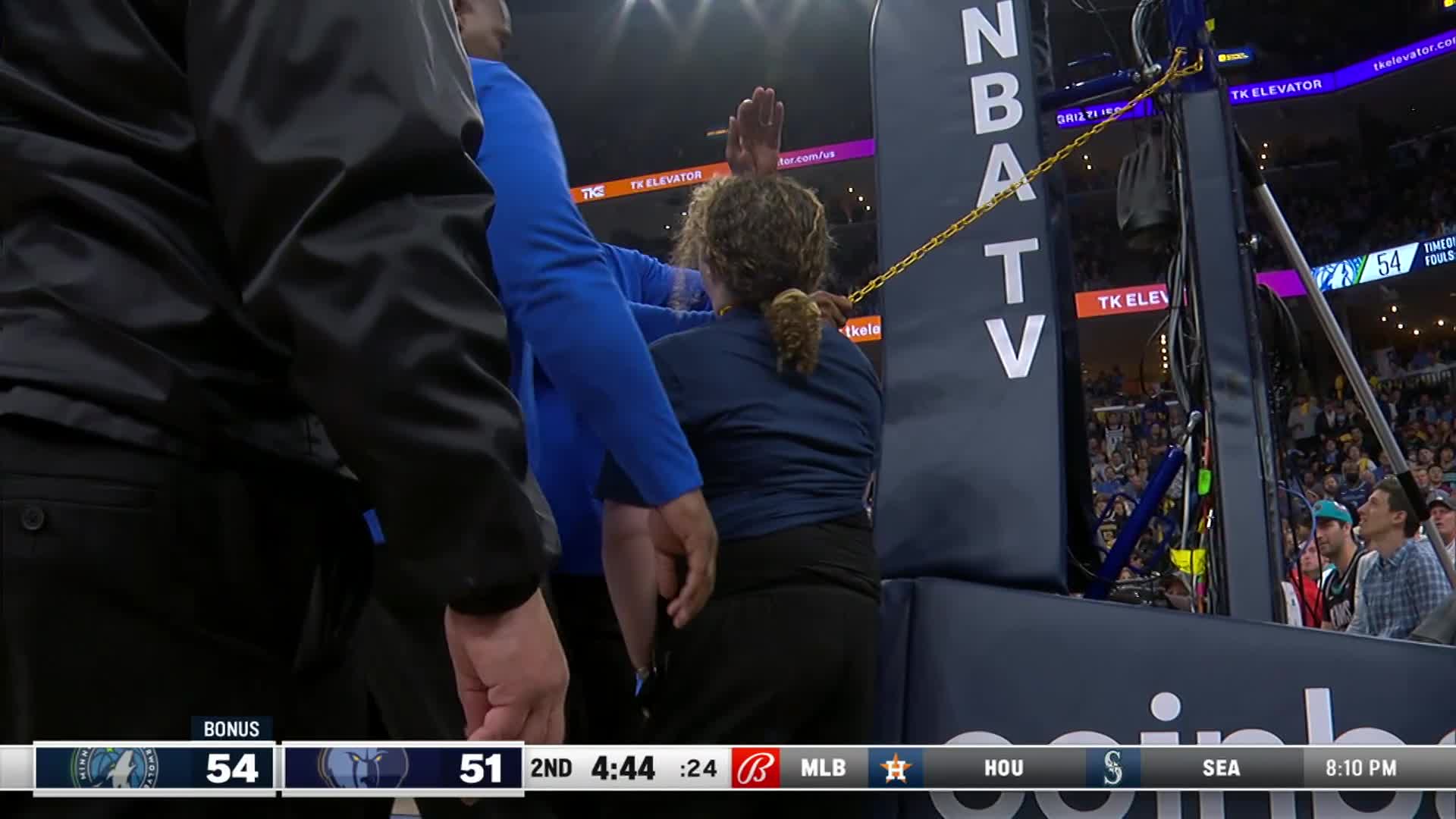 In another crazy person move, the protestors once again made their return on Saturday in game 1 against the Grizzlies.
My first reaction to this was what a weak ass chain. I mean…that thing is useless. I really don't care about what these gals are protesting but you gotta do better than the chain Cub Foods uses to block closed checkout lanes. Imagine is they would've had to get the fire department out there with the jaws of life when this chick uses an industrial chain that's made to tie down like bulldozers on trailers. You gotta step up your game.
Once we broke her free she was then carried….CARRIED off the court
Respect to her for this. If you're gonna do something, I guess go all out. I just feel bad for the dudes who had to carry her. They didn't look like cops or even security guards. I bet carrying protestors off the court wasn't in the job description for season ticket representative.
The Vikings game meant absolutely nothing but these Wolves games were pretty important and we're 2-0 when the crazies come out. #ChainGirl wasn't nearly as funny as #GlueGirl but the game still ended in a Wolves W and I can't wait to see what they come up with for game 2!
Keep the protests coming I guess! Skol Wolves!
Great guy, better drinker. One of the better looking husky guys around.