Has anyone in the NBA had a more eventful few months than the man himself Malik Beasley? Well, I'm not too sure and sadly it's been for the wrongggggg reasons.
Well as you probably already knew, Malik got into trouble a few months ago because of the electric lettuce, which isn't a big deal in my eyes……but there was more. From everything I've read and understand about the said situation is that Malik was caught pointing a weapon at elderly people outdoors AND at his own kid. Now that is indeed a bit more concerning than the weed incident, that's for sure. Unfortunately, that was months ago and NOW there is a new drama, some classic drama type stuff involving a few different women, oh great.
So what is Malik getting up to now that he just got PAID? Well by the look of it, some women. Most people I'm sure have already heard about the stuff from a few months ago, but this is new and JUICY stuff I'm telling you.
Malik was spotted with Larsa Pippen this past week. She is 46 years old and married to Scottie Pippen even though they did file for divorce and I'm pretty sure they never went through with it. Well, Malik is also married with a kid, so that's where this gets allllll sorts of FUCKED. This picture was from @TheShadeRoom.
Malik's wife reportedly filed for divorce the second she saw this picture, really can't blame her there. She saw her husband with a married 46-year-old woman and I might do the same. Malik may be coughing up quite a bit of that new contract over to her because of the divorce. Here's a funny meme I found on twitter about it.
This man is LUCKKKKKYYYY he just signed that contract or he may be looking for a second job. There were also emails and DM's that were leaked involving Malik that are pretty damn wild. Here is the email from @TheShadeRoom.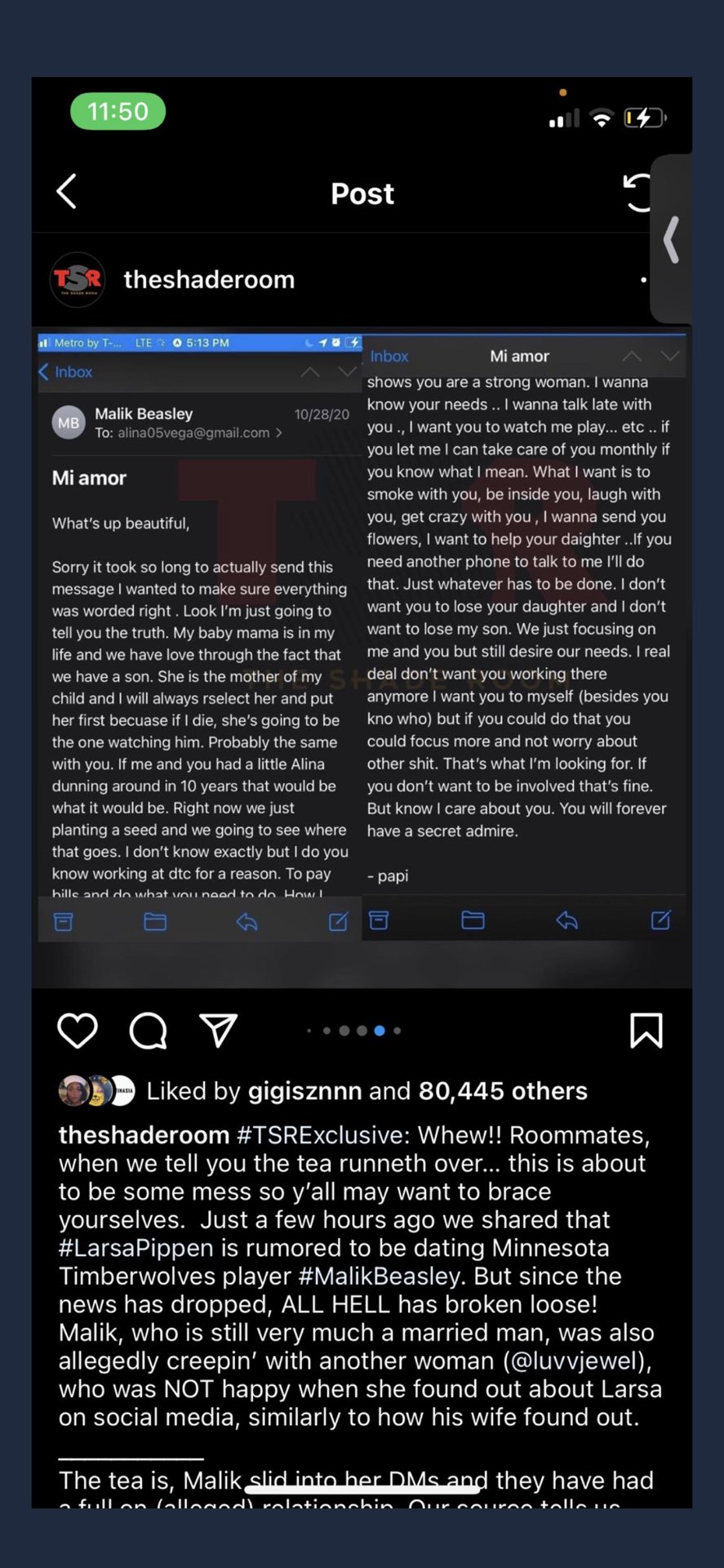 Now, this does confirm indeed, that Malik Beasley is a complete maniac. Straight up, this man is wilding out right now. Like I guess there was a 3rd woman involved like it wasn't bad enough?
Apparently, Larsa Pippen was also seen returning home to Scottie Pippen too, like what in the fantasy world shit is all of this. I really can't wrap my head around it, but it's all pretty funny and entertaining.
This man has got some problems he will have to deal with and I just hope he still has full attention on basketball after we just gave him that contract. At the end of the day, we are paying him to hoop. If he does that part well and stays on the court I frankly am not going to put so much importance into what he's doing off the court. Buuutttt if this becomes a recurring theme and he's in the headlines for off the court stuff often, then we are going to have a problem. Let's hope he figures it out and completely separates his off the court life and on the court life. Us fans have hope and faith Malik, don't let us down.
P.S., you won't have to worry about the weed anymore because the NBA will no longer be randomly testing, one less thing to worry about Malik!
10K sports writer that specializes in Timberwolves content.  Lover of pizza, disc golf and having the Timberwolves forever make me sad.