Happy All-Star Break fellow Twins fans! Make sure to wish our All Star's (aka representatives) Nelson Cruz and Taylor Rogers good luck! Hopefully, they're both still on the team when they play the damn game so it's not awkward for us.
It has been a mostly down year for our Twins so far this season but as a dumbass Minnesota sports fan, I can't help but be optimistic about the second half of the season. Although we're 15 games back in the Central, I don't think Detroilet, The "I" words or that shitty Chicago team is all that much better than us.
What the fuck happened?
There weren't too many people that weren't optimistic about the 2021 Twins season. Maybe this is the season that Donaldson will finally be on the field?
Donaldson has spent time on the injured list this season along with some other big names but I don't even care about that shit anymore. At this point, it's expected that our best players are injured.
Even with battling injuries, the Twins have managed to hit a .246 average throughout the first half of the season which puts them 8th in all of baseball. The only AL Central team ahead of the Twinkies is the White Sox (fuck those guys) with an average of .257.
Other notable hitting rankings are:
Home Runs – 129 (3rd in MLB) (1st in AL Central)
/
Runs – 421 (11th in MLB) (2nd AL Central)
Back in April if you were to tell me we would have hitting numbers like this I would at least think we would be in the mix. But no. We're 15 games game back which puts us in a steamy pile of 4th place.
With that being said I'm blaming this start to the season on…
Shitty Pitching!
Let's start with the "aces."
I would love to give Berrios some praise. But I'm fairly confident that he'll be traded by the time this goes on the site. He's really been the only somewhat consistent starter (and one that has stayed healthy) for the club. I'm really looking forward to the trade for 3 guys no one has ever heard of and that will most likely never play for us.
There's still hope for Maeda but I'm not holding my breath. We've really only seen a sample size of him this year with being on the injured list with groin and arm issues. I'm not gonna lie though…the sample has been like going to Costco and sampling a veggie tray. Where the fuck are the bacon-wrapped wieners? Maybe some dope ass new ice cream? Those are the types of samples I like. Give us some of that bacon-wrapped wiener pitching Kenta!
Even worse than the starter's we have the bullpen.
All but 2 of the active relief pitchers the Twins currently have an ERA over 4. That sucks.
Tyler Duffey and Taylor Rogers have really been the only decent relief pitchers that the Twins have had this season. The only problem is that they mostly go in the setup and closer roles. We need the team to have the god damn lead in that late innings to really have these guys be effective! Our pitching staff sure is making themselves look guilty for this first half stumble out of the gate.
As a team, we rank 29th in the league in both ERA with an ERA of 4.98 (ouch) and Earned Runs with 432.
Are We Really Seller's?
Every season all teams and fans struggle with the buy/sell debate.
Fans always seem to want to buy and for good reason. Why wouldn't you want the Twins to trade for an ace (not that they ever have and ever will)? We always want our team to be in the mix. That's why it's hard to hear the recent trade talks surrounding names like Cruz and Berrios.
The organization on the other hand would sell the fucking field at this point and play on dirt if they could. Some years it makes sense to move big-name players to bring in some younger guys to develop for the future, but it never gets any easier for us fans.
In my opinion, I would like to have us do nothing. Just stay the course and ride this shit out to the end. Maybe our pitching will still suck ass and we end dead last 20 games back. But who knows? Maybe we can string some wins together and make a run at this thing so we can lose to the Yankees in October!
Either way, it's always fun to hang at the ballpark and make some beer snakes whether you're watching Nelson Cruz or a prospect to be named later.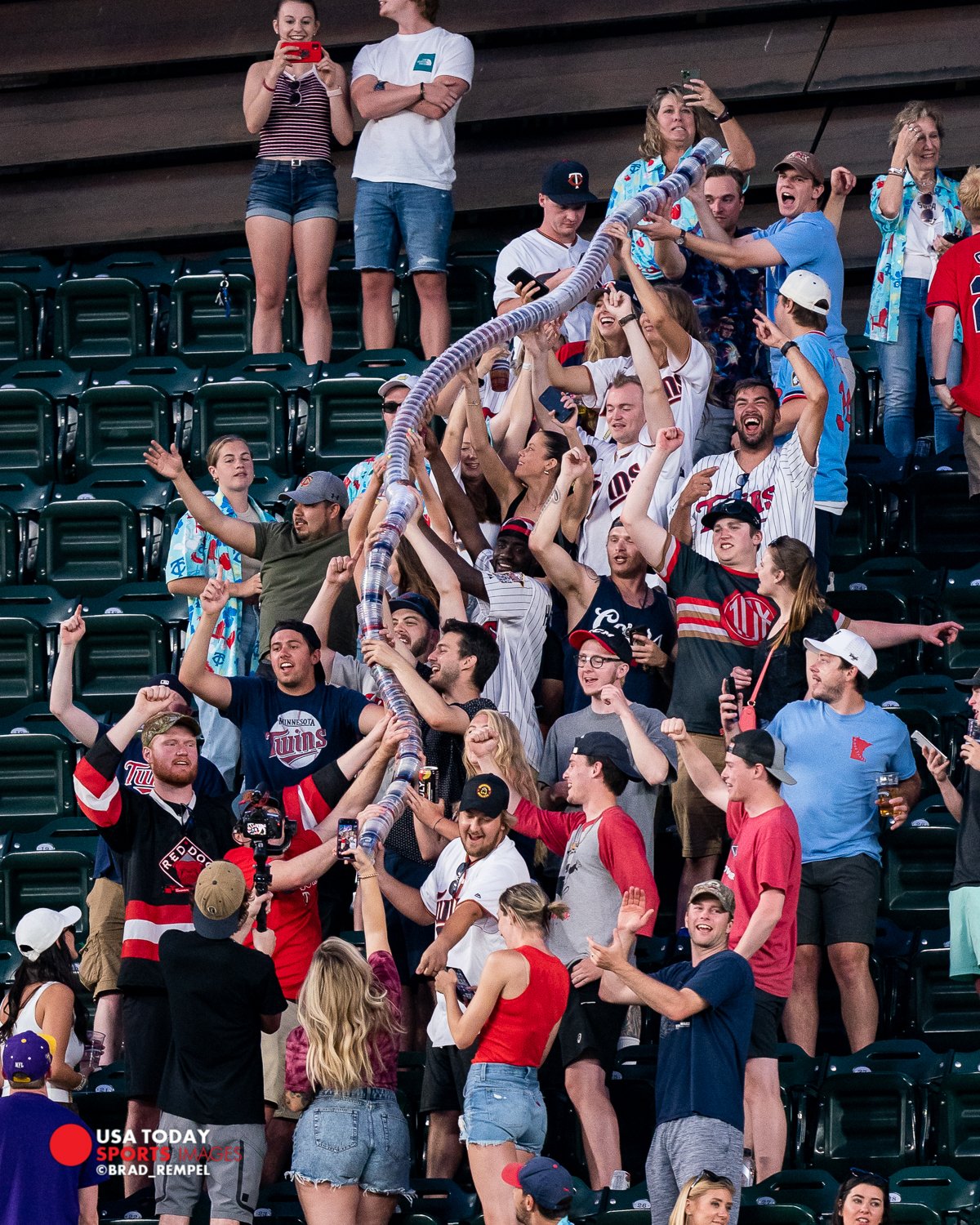 Great guy, better drinker. One of the better looking husky guys around.